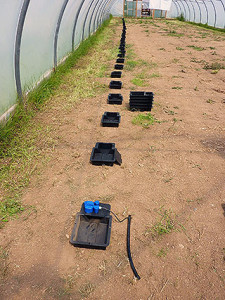 Finally after almost six months of planning and frustration with various set backs the Prison project is very much back on track.So far there are over 1200 chilli plants on site and the others are almost ready to be potted into their final pots which will be a mixture of the Autopot 1Pot Module which holds 15Litres & the Autopot 1Pot XL Module.
I have a variety of substrates available to me to trial with this system and in due course I will be posting my findings as the season progresses.The polytunnels have been prepped for the laying of the white Mypex this should be a great help on the ripening of the pods as it will reflect the light up under the plants.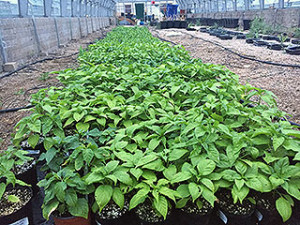 Each polytunnel will have a 1000Litre Flexi tank which will supply the nutrients of which have been made specifically to suit the growing of chillies and the water in the prison.in it and 7 rows of 40 Autopots so in total 280, I was supposed to be using 8 polytunnels but one was damaged in the storms so there will be a total of 1960 modules in total.
We were going to use more but decided to give each plant a metre so to allow it to grow properly. I have been working with four offenders and they are extremely keen and very willing to learn about the growing of chillies of which I find it rewarding to pass on the knowledge I have to them.