Devon Chilli Man Box of Pain. The name says it all. Devon Chilli Man is probably known best in the Chilli Growing Community for being one of the biggest UK growers of Carolina Reapers. But he does grow other interesting Chillies as well, and he'll happily send you a box in exchange for a few of your hard earned pennies in the form of one of his Boxes of Pain.
It is, unfortunately a bit hard to really review these boxes as each one is pretty unique in that you get what you're given. The one thing you can guarantee is that you're going to get some of the hottest chillies that are available today and that they are going to be fresh.
I've literally ordered a Devon Chilli Man Box of Pain one day, and it be sat in my kitchen the following. I live about 250ish miles away. It's a pretty impressive feat to be fair. Now, he can't take all the responsibility for that, I know. It's not as though they are hand delivered. But it does show a certain commitment to his customers that they arrive fresh.
Which, is good.
In fact, I've ordered a few of these now and one time it fell over a bank holiday weekend. He took the time to drop me a message asking if I minded waiting so then he could be sure they wouldn't get stuck in a warehouse. You can't argue with that kind of customer service.
For £8.00 you can look forward to (approximately) 150g worth of Chillies. Now, that might seem expensive to some but you do have to remember that you can't buy these chillies by going to your local shop. They aren't mass produced. They've not been through any kind of factory. Pesticides haven't been used and the man has his own bills to pay. All things considered, they're pretty bargainous in fact.
More than anything else, it's a chance to get your hands on a great selection of new chillies to try out for yourself. I've had some crackers in the boxes I've had.
Setting aside the more famous ones like the Carolina Reapers of this world I've been introduced to some beautiful fruits. The Brain Strain Chilli for example.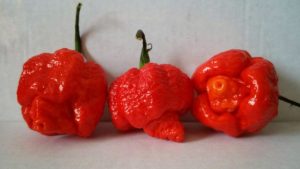 Previously these where like something I'd heard of round a camp fire. With a name like Brain Strain, come on – Who wouldn't want to try them? As it happens they are a proper little fire cracker and delicious.
Another Chilli I was glad to get my hands on was the MOA Scotch Bonnet.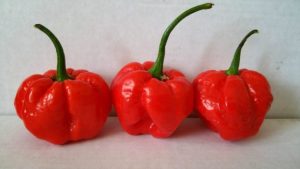 The MOA (Ministry of Agriculture) Scotch Bonnet is the original "Scotch Bonnet". As I've said more than once, Scotch Bonnets are amongst my favourite chillies to cook with. Over the years with cross pollination, I guess the true Scotch Bonnet got changed to something else without anyone really realising. It wouldn't be the first time I'd suspected something labelled as Scotch Bonnet was more of a generic Habanero more than anything else.
So, I more than welcomed the chance to try a "real" one. And, as it turned out, I was slightly disappointed. They where actually much milder than I was used to. Still tasted great, but I used my normal four in my sauce, and, it could have done with a bit more of a kick.
Of course, there all kinds of surprises to be had in these boxes. Including chillies I've never heard of, like the Moruga UV.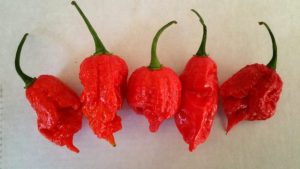 The Moruga UV (Unknown Variety) is an unstable version of the Moruga Scorpion Chilli, I don't know much about them but the plant is known for throwing out all kinds of different shapes and pod types.
In one box I got this year (2017) there was one in particular I'd never heard of. Brown Bhutlah. I was originally sent just the two of them. At the time this struck me as odd, there are normally at least four of each type. But, I didn't think much of it other than that. I did however decide to use them in my Chilli-Con-Carne that night, just to get them used more than anything else.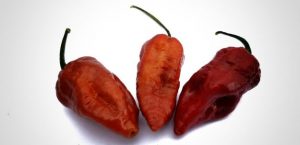 Boy, was I in for a surprise. Hand on heart, NEVER have I had a chilli THAT hot. To say that I just used two was ridiculous. Those things are just silly. And yes, I do mean never. Hence me putting it in capitals, bolding it and using italics. I've cooked the same meal with four Carolina Reapers and never felt heat (or pain) like it. I've cooked the same meal with four Moruga Scorpions and never felt heat (pain) like it. I've cooked the same meal with four kinds of all kinds of super hot chillies and never felt heat (pain) like it. You get the idea.
If I'd used four Brown Bhutlah then I think, quite possibly, there would have been some medical attention needed.
They are crazy hot. And, I'd never even heard of them before!
And, of course. Another thing in the plus common for buying Super Hot Chillies, is that you get free seeds for all these crazy chillies you've never heard of.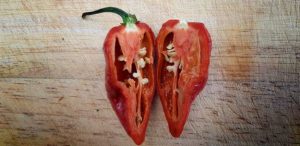 There are of course many other varieties that you could get sent, it really is whatever he has ripe at the time but that just adds to the excitement of it all. For me at least. Kind of like an early Christmas even.
We all like a bit of hot pod action so here is just a small selection of the ones I got in some boxes I ordered this year (2017).
Fatalii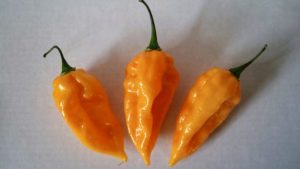 Primo Red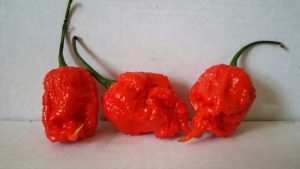 Black Habanero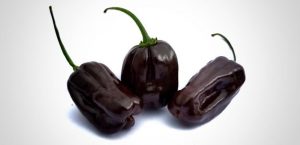 White Bhut Jolokia
7 Pot SR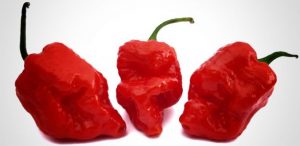 7 Pot Infinity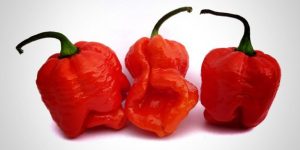 OK. That's enough. I'm sure you get the idea 😉
If you're looking for a random selection of super hot chillies to buy, it's safe to say I'd recommend the Devon Chilli Man Box of Pain as a good source of them.
If you're interest purely lies with the Carolina Reaper then he is also more than happy to ship a box of those to you as well, or perhaps you're not feeling quite that brave, in which case there is a Mild and Tasty box to consider as well!