I can't believe a month has passed since I first introduced myself on the Chilefoundry.
I've had one of the craziest months for a long while, bearing in mind that this is supposed to be the quieter part of the year. Ive been busy potting seedlings on, I usually sift my compost and add perlite myself but 2 weeks ago I had a hernia operation so to make things easier for myself I bought a 50L sack of Biobizz "All.Mix" of which I was impressed with and now have two grow tents bursting at the seems it was so much easier to pot on because of the fact that the seedlings were established in the Grodan Cubes. I have lights in the Clone Box Tents and have them set to be on for 14 hours per day and this seems to be ok for the moment.
Now one of reasons that I've had such a crazy month is I've been trying to secure some polytunnels for the expansion of DevonChilliman & as of 5pm Thursday 26th February I signed a contract and can now tell you all that I have 8 polytunnels these are a great size, being 35M x 9M.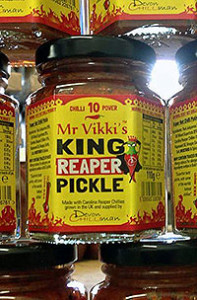 Another exciting piece of news is I have colaborated with my favourite artisan producer Adam Marks, as most of you will know is Mr Vikkis and he is based in Cumbria. Along with my passion for chillies the other passion in my life for over 20 years is the love for Indian food. I discovered Adam's delights when I attended The Upton Cheyney Chilli Festival back in 2012 which is run by Alex & Louise Duck.
I couldn't believe the flavours and authenticity of Mr Vikkis products & since that day I have become obsessed with them, my local Indian restaurant of which I have frequented for all this time must wonder what has happened to me!, so when Adam contacted me and asked if I would like to do a Mr Vikkis/DevonChilliman colaboration I honestly couldn't believe it !!!.
So I have supplied him with the worlds hottest chillies the "Carolina Reaper" that I grew here in Devon in my glasshouse in 2014 for the "Superhot Chilli Pickle" which we have now called "King Reaper" …my "Chilli Caped Crusader" now wears a crown on the jars. This really is a superhot pickle for those Chilliheads who have worked their way through the ranks and are looking to get their next level fix.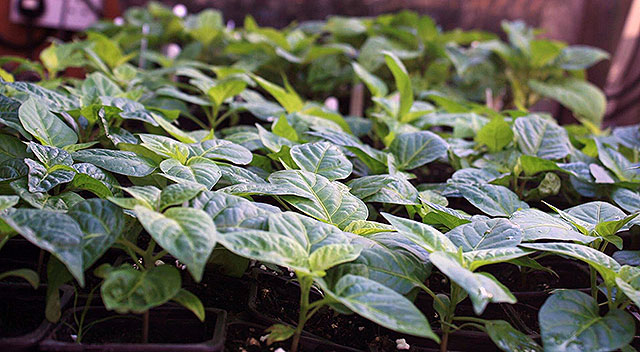 Adam also wants me to supply him with all his Nagas this coming season,so I will dedicate one polytunnel for the variety "King Naga" and another polytunnel for the "Naga Morich" variety…so all in all I'm living my chilli dream at the moment and it seems funny to have a business that I class as a hobby as it really doesn't feel like work.
Well that's what I've been up to, I will be back in March with another update.